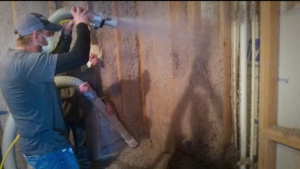 Proper training in Wall Spray is essential. Without training, it takes a long time to learn the process. Remember 1st impressions are the most lasting and Word Gets Around! Results of poor application will affect the contractor/builder relationship. An excellent job also gets around…and we all know how a few bad applications can ruin it for the rest of the insulation brotherhood.
[Seminar is fiber and machine 'neutral'. Instruction will be provided for wall spray process using 'any' supplier's fiber and most brands of machines]
When: October 5, 2018
One day of intense training: 1st half = classroom instruction; 2nd half = hands-on spray training
Location: Cool Machines Factory, 740 Fox Rd. Van Wert, Ohio 45891
Speakers:
Dave Krendl, Cool Machines (President)
Instructor: Ivan Sandau, widely accepted one of the 'early' (early 70's) pioneers and innovators of the wall spray process.
Details
One full day of training. Classroom and Spraying
Fee: $500 per company (max attendees from each company is 4) $250 for individual
Continental Breakfast and Lunch will be provided.
Registration: First come basis. Maximum of twelve (12) companies to allow adequate spraying time for seminar participants in our newly designed training facility.
For information call: Ph# 419-232-4871 (ask for Dave)
E-mail: dave@coolmachines.com
7:30 a.m. to 8:00 a.m. (Meet & Greet: refreshments provided)
8:00 a.m. (General Session #1 / All Participants)
  Welcome, Introductions, & Housekeeping / Itinerary overview for the day (classroom)
  Attendee profiles and expectations for the day. We want to meet your specific needs
8:15 a.m. Plant tour/Equipment Overview & Information related to classroom instruction. (training lab)
9:00 a.m. (Session #1 Classroom)
  Brief building science overview relating to wall spray.
  Conduction, Convection, Radiation.
  Air & Moisture migration, Fungus, Toxicity.
  What is Wall Spray and 'Stabilized' fiber application?
  Fiber compatibility and composition offering best fiberchoices for success.
  Basic Wall Spray Equipment recommendations.
  Questions and Answers.10:30 a.m. (Break)
10:45 a.m. (Session #2 Classroom)
  Detailed equipment information
  Integration and use of contractors current machines
  Small single machine application
  Large 'plural' dual hopper systems
  Machine & pump pressure adjustments and settings
  Monitoring and controlling moisture
  Solutions when fiber is not sticking to the wall
  Solutions to eliminate 'sags' in cavities
  Questions & Answers
  Factory tour showing various wall spray machines andaccessories
12:30 p.m. Lunch (provided on-site)
1:00 p.m. (Session #3 Training Facility)
  (3) Basic spray techniques: speed, distance, angles.
  Special structures: sound walls, box sills, bathrooms
  Use of netting and stapling technique
  Pre-cleaning job-site, air-sealing caulk, and prepping job
  Post-clean up at end of job, trimming for drywall
Hands-on demonstration of the teaching points explained above.
  Spray technique for sound walls, outlet boxes, plumbing walls and 10 ft. walls.
  All participants will have ample time to perform each function of the total wall spray experience. Each participant will be expected to actively participate in prepping area, making machine adjustment decisions, apply spray techniques, wall scrubbing, and loading machine with dry and recycle
2:45 p.m. (Break)
3:00 p.m. (Session #4)
 All Participants to meet in Classroom  Questions & Answers
4:30 p.m. (Approx. session end time)
Our trainers and staff are prepared stay as long as need at end of day to be sure you take advantage of this experience