UPDATED DESIGN with LARGER HOPPERS!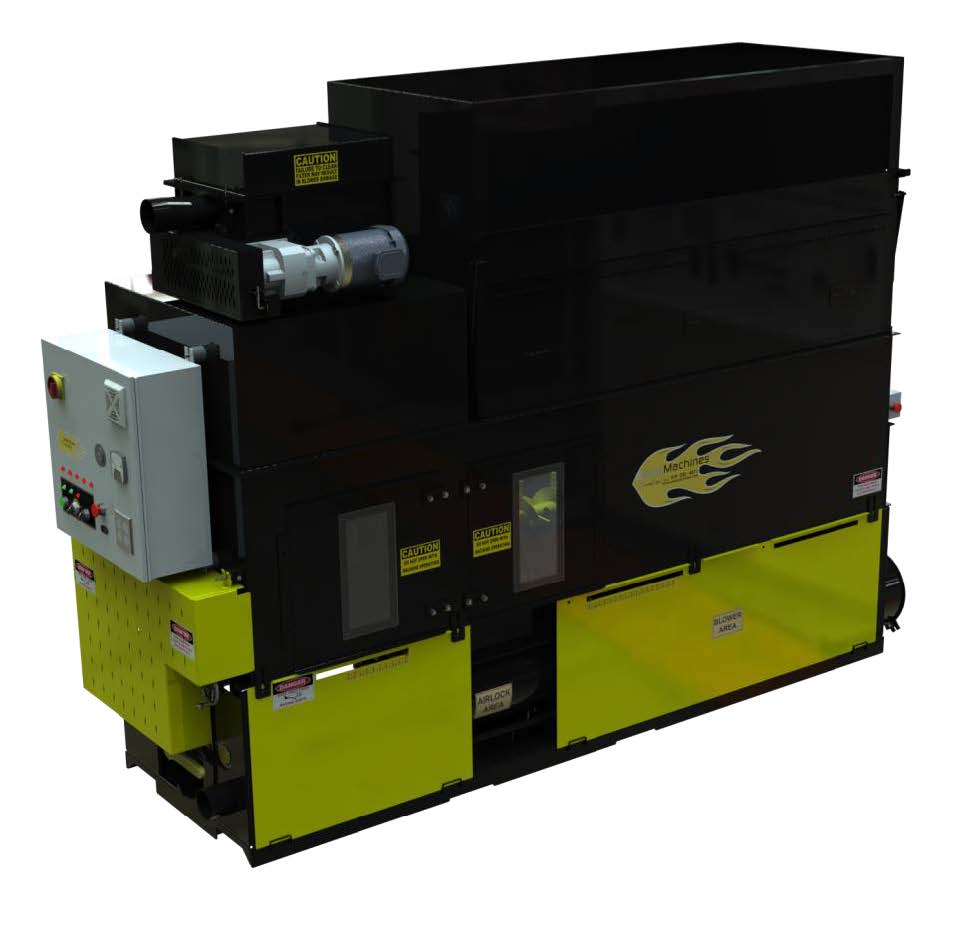 Our classic "Big Dog" CM-4500XL series machine combines a large (125 cubic ft.) hopper, high speed production into a simple, compact machine that can do-it-all. The optional 12" x 24" oversized airlock feeder and 10 h.p. positive displacement (P.D.) blower provides the 'punch' to knock-out the big jobs.
Wall Spray? Bring it on!!! Our optional 10 h.p. (P.D.) Vac-Pack Recovery Systems streamline the spray process and reduce labor costs.
"Big" dry hopper (91 cubic ft./20 bags stacked bags cellulose) allows operator to leave the truck for long durations assisting with duties inside the structure.
"Fast" vacuum speeds (10 h.p. P.D. Vac-Pack system) fills the large capacity (26.5 cubic ft.) recycle hopper quickly…allowing vacuum operator ample time to scrub walls.
"Simple" dual slide gate controls for recycle and dry in a single, compact machine provide a fast, accurate application of dry blended fibers into the wall; while conserving space inside your vehicle.
Our 'integrated recycle technology' precisely controls the introduction of dry and recycle fiber in a separate metering hopper. This process significantly increases speed of application and decreases moisture. These features allow the contractor to reduce labor while allowing the spray nozzle to run non-stop. The "Big Dog" CM-4500 is "THE" solution to increase profits on large, demanding jobs.
CM-4500 Production Rates
| Material | Production Rate |
| --- | --- |
| Cellulose | 4,500 lbs/hr (*5,400 lbs/hr) |
| Fiberglass | 1,800 lbs/hr (*2,400 lbs/hr) |
| Rockwool | 2,200 lbs/hr (*5,000 lbs/hr) |
| Wall Spray Cellulose | 40 bags/hr |
| | |
*optional 12" x 24" airlock and 10 hp PD Blower
Specifications
Weight: 2,250 lbs. (5 hp PD Blower)        2,400 lbs. (10 hp PD Blower)
Dimensions: 112″l x 35″w x 89″h
Hopper Capacity: 100 ft.3 (24 bags cellulose/6 bags fiberglass)
Airlock Options: (4″ O.D. Ouput @ 6 p.s.i.)

12" dia. x 20" Long
12″ dia. x 24″ Long

Drive Motors: 3 h.p.
PD Blower Options:

5 hp / 3L, 250 c.f.m.
10 hp / 4L, 350 c.f.m.

Power Requirements:

240 volt, 30 amp. 1-phase (5 hp PD Blower)
480 volt, 20 amp. 3-phase (10 hp PD Blower
CM-4500XL-VP 'Vac Pack'